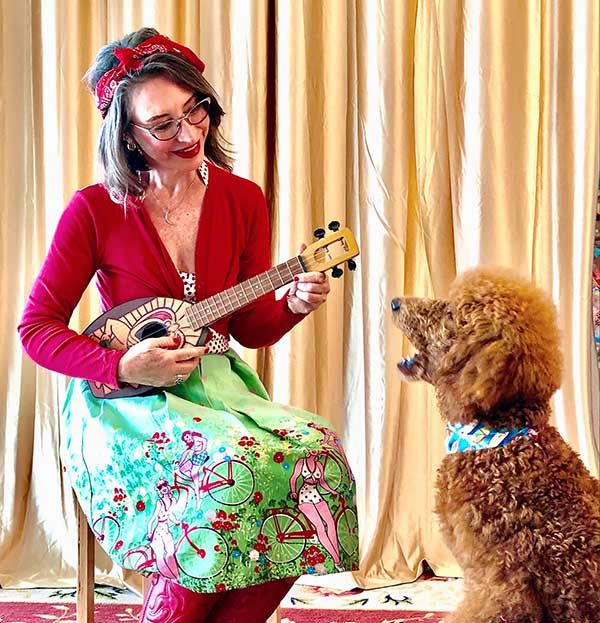 Witch with a Hitch-
A Poodle and a Ukulele.
I'm not what you would call Sporty.
My high school days were spent in a dark theater doing homework while rehearsing for the next musical.
I don't know how to hit a ball or bounce a basketball. Sports are not easy when you only have "Jazz Hands".
I'm not what you would call Outdoorsy either.
I enjoy nature but I never did much outdoor stuff growing up. Perfecting my tan while watching the surfers was about it for me.  Camping as a kid was the Motel 6. We would cram 4 kids into the family station wagon to visit my grandparents in Texas. We prayed for a hotel with a swimming pool.
So now I'm a grown up city girl. I enjoy a stroll through Balboa Park to admire the architecture and visit the museums. My mornings are spent lazily scrolling through facebook while petting my cats James Bond and Miss Pussy Galore. My free time is spent planning a magical birthday trip to visit my Sister in England.
Then everything changed.
The quarantine, unemployment, and dream trip cancelled. My world became very quiet and small. A challenge for an extrovert. As I waited for the State to let us know when we could back to work I dreamed some more.
I dreamed of adventures with a sporty dog by my side. Inspired by John Steinbeck's book "Travels with Charlie" I though a Standard Poodle would be perfect.
Holy Moly be careful what you wish for!
Merlin arrived into my life. I now had an energetic, athletic red poodle puppy. Days became long walks, dog parks, and play dates with his besties at 6am and 6pm. Outdoors now? You betcha.
I was now ready for a little adventure travel with my Poodle.
Hotels and planes seemed too risky with the Pandemic.
"What if I could pull a little Parisian bedroom behind my Car", I thought. My Pinterest board suddenly became full of girly trailer images.
I settled on a Meerkat Trailer made locally in San Diego by Little Guys Trailer. It was light enough to pull with my car and didn't break the bank. Owning a trailer gave me a sense of empowerment. However, I had no idea how to hitch or unhitch or even back up.
I joined "Sisters on the Fly" a group for women adventurers.
Their motto is "Giving outdoorsy women a chance to soar".
I joined a Single Woman Meerkat group hoping that a sisterhood on the open road would give this novice some tips.
So here I go…
I've got my Poodle, my Ukulele, and my Parisian bedroom on wheels. Most of all I have the courage to reinvent myself as an "outdoorsy" Witchy Girl on the fly. I'm ready to Sing to the Moon and Dance with the Stars.
May Goddess bless us all on our journey. May you find the Magic that makes your Soul Soar.
-Witchy Girl and Merlin Stay tuned for further adventures